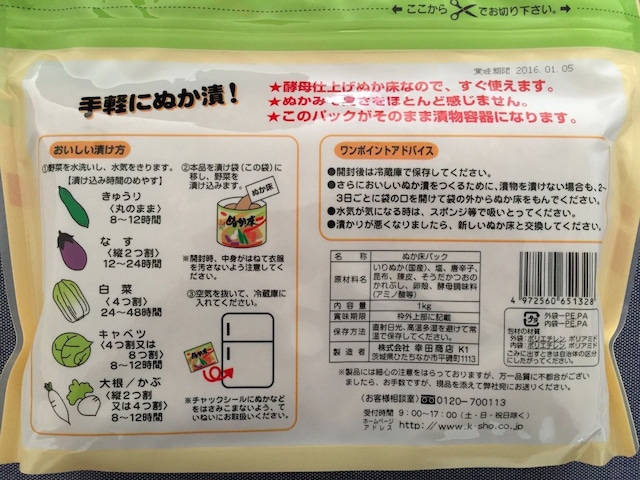 Japanese pickles making kit NUKA-BED, NUKADOKO, NUKAMISO, NUKAZUKE lactobacillus
Nukazuke is a type of Japanese pickle, made by fermenting vegetables in rice bran (nuka).
This kit is NUKA-BED that is "ready to pickle".
You can pickle various vegetables you love!

We give an extra pack of "NUKA rice bran 300g" now!

HOW TO PICKLE:
1. Wash the vegetables clean
2. Soak (pickle) vegetables in NUKA-DOKO inside the plastic bag.
3. Release the air from the plastic bag and seal it off.
4. Put in the refrigerator (depending on the temperature in your area) and after 1-2 nights.

It's ready to eat! Don't forget to remove (wash) NUKA.
I love 1 week-soaked deep sour pickles, actually. :)

Qty NET : 1kg
Maker: Kohda Shoten, Japan
Ingredients: Rice bran, salt, red pepper, Kombu seaweed, dried citrus peel, dried bonito, eggshell, yeast extract, lactobacillus

*It needs to be stored under refrigeration after opening to avoid rot.
*Storable term: 12 month
(This storable term is only a guide. If you stir well NUKA-BED with your hand once every 2-3 days, add extra NUKA rice bran and salt as necessary, it can be used semi-permanently.)
*Please see the instructions below links for more information.

FYI:
About NUKAZUKE
https://en.wikipedia.org/wiki/Nukazuke

Nukazuke: Japanese Rice Bran Pickles
http://pickles.wanderingspoon.com/2009/04/24/nukazuke-japanese-rice-bran-pickles/

How to make nukazuke?
https://youtu.be/ZXacDTEo-jI

Attention:
Due to the impact of COVID-19, some of the countries cannot be shipped because the transportation of Japan Post is suspended.
Please see the following link that is described as "International mail service availability chart".
Now we accept orders from the country on this list.
https://www.post.japanpost.jp/int/information/overview_en.html

* Price includes international shipping fee from Japan. We ship via registered mail.

* The price of your country's currency which is indicated on the item might not be the same as credit card company charges.

* Actual price is calculated by the original Japanese Yen price to your country's currency on the shipping date by the credit card company's exchange rate. (Please select JPY by the pull-down menu at the bottom of the item page)

* Customs policies are different among countries. Restrictions might be applied to some of the products or materials.

* Additional fees may be required depending on the delivery country or region.

* Any customs and import duties charged after the parcel arrives in the destination country. The charges must be paid by the recipient of the parcel.

For more information please contact your local customs office for current charges before your order.
Shipping Date
In principle, we will ship within 5 working days after payment is received.

Notes on Refund and Returning Goods
Requests for exchanges or returns have to be made within seven days after delivery, and items must be unused. (Please see follows)

Returns will not be accepted for the following types of items:
* Opened, damaged, used, or stained by the customer
* Items arrived at destination more than 7 days
* Pictures on the website are taken by the original products. Reason for return such as "The item is different from what I imagined" will not be accepted.

(Return)
Shipping charges and handling charges (including COD handling charges) will be refunded only if the return is a result of our shop's mishandling such as different items or colors/sizes being sent to the recipient.

If you need to process a return or exchange, please send pictures of your received item(s) to our contact email address and we will give you instructions for the process. Please do not process a return without any notification.

We will resend the correct item(s) after receiving the incorrect item from the customer. The return shipping fee will be refunded via PayPal.

Regarding damaged or lost items during the delivery, our Registered Parcel has insurance against damage or loss. Please contact your local post office. We will not refund the shipping fee if damage or loss happens during delivery.
Add to Like via app
Shipping method / fee

Payment method